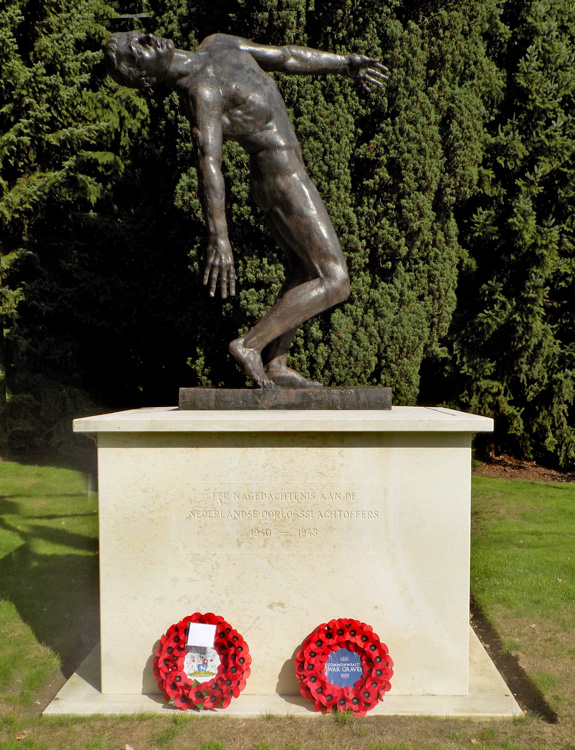 "Forgotten Heroes"
Dutch War Memorial Service
At 2 pm on Friday 16th September 2022 children from five local schools paid homage to more than 180 Dutch war dead buried in the Dutch Garden of Remembrance in Westminster Cemetery, Milespit Hill, Mill Hill, NW7.
The Dutch and British flags were lowered to half-mast by two of the children to the strains of the Last Post.
The service was conducted by Rev Josh Kane of Mill Hill East Free Church in the presence of the Air Attaché of the Netherlands Embassy, Wing Commander Martine Verhuist, who, after giving condolences on the recent death of Her late Majesty, Queen Elizabeth II, gave a short speech explaining why the war graves were there.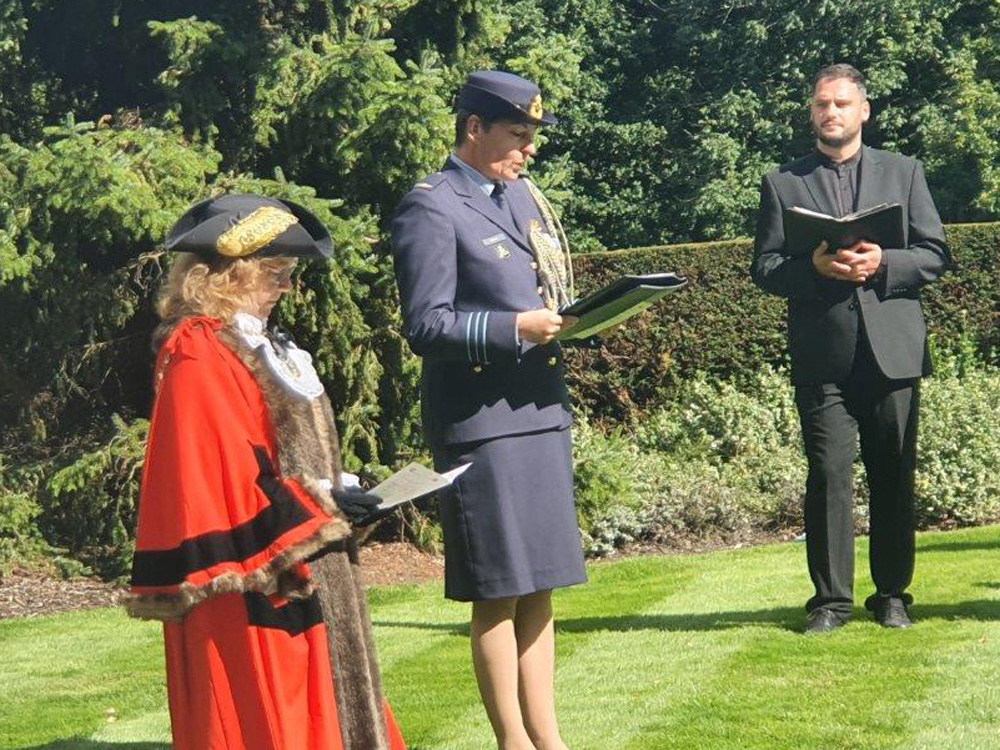 The speech entitled "Forgotten Heroes" was as follows…
"Dear Worshipful Mayor of Barnet Councillor Alison Moore, His Majesty Representative Deputy Lieutenant Mr Martin Russell, Mr Sury Khatri, Mr Will Reid, Mr Tim Bell, Reverent Josh Kane, members of Barnet War Memorial Association and Pupils and Teachers present.

First, I would like to express my deepest sincere sympathy and condolences following the passing of Her Majesty The Queen. The Queen has been a symbol of grace, dignity, and elegance, while at the same time a symbol of strength, courage, and dedication to her country.

I am Wing Commander Martine Verhulst of the Royal Netherlands Air Force and recently started as the Air Force Attaché at the Dutch Embassy in London.

Why are we here today? Because it is very important to learn from our past. To understand Todayand to improve the Futurewe should first learn from our Past.

That is why we should remember and commemorate! That is why it is so important that you as our future generation are part of this as well!

We should never forget those who gave their own lives for our future, for our freedom. In the English language you have beautiful words to express this:

Lest we forget….

Around us we see 254 graves of Dutchmen who died during World War Two and are buried here at the Netherlands field of Honour at Mill Hill Cemetery. They were called "Engelandvaarders", you may be familiar with this name. These brave people left family and friends and escaped from occupied Netherlands, risking their own lives and then joined Britain to fight against the Germans and Japanese. They either served with the Royal Navy or the Merchant Navy, the British Army and the Royal Air Force. Some of them operated as secret agents or agents of the Special Operations Executive. They were parachuted back on Dutch soil for secret operations or dropped by small boats right in front of the German enemy on the coast of the Netherlands.

I would like to tell you about one of them. His name was Jan Willem Theodore Bosch.

He is one of our forgotten heroes… But Jan did not see himself as a hero. I hear this a lot from the veterans and resistance fighters that I still meet in my work today. Like all the brave veterans that survived the war he said: "my friends who died, they are the real heroes!"

Well, you see them here at Mill Hill in front of you and you are going to lay a flower at their graves to honour them!

Jan also said that he was not afraid during the war. But the fear about all the things that did happen would creep up on him, much later in his life. And we hear this a lot too from our veterans, don't we ?

Our real heroesare buried at the various cemeteries in Europe, in the Netherlands and also here at the Netherlands Field of Honour at Mill Hill.

What motivated all those Engelandvaarders to risk their lives in these extremely dangerous missions? Adventure or a strong drive for freedom? Perhaps… But if they wanted freedom, why would they returnto their captured homeland (the Netherlands) after their escape to perform these dangerous missions?

The fact that they did not hesitate to risk their lives came from a grand feeling of injustice.

Engelandvaarders were people who did not stand for the capture of the Netherlands and each one of them took their own responsibility to do something about it.

They stood up, to fight for our freedom and showed immense bravery! Let's never forget that Freedom is not self-evident and Freedom is not for Free.

After World War Two, until today, there are still many people who risk their own life to save others. They do this to continue the fight for our freedom and safety.

Military, police officers and firemen, civilians working for the United Nations and Non-Governmental Organisations.

Every year this flower ceremony is held, by the thought that we don't faced huge conflicts in Europe. But this year, the situation is different, because of the war in Ukraine. More than ever, we all realized that freedom does not come free. Freedom comes at a cost. Let's hope that the war in Ukraine will stop very soon.

On a day like today where we have vowed to be together and give our thoughts to all those heroes, we should say to ourselves: Lest We Forget!

They shall grow not old, as we that are left grow old;

Age shall not weary them, nor the years condemn.

At the going down of the sun and in the morning,

We will remember them.

Thank you very much."
The Mayor of Barnet, Cllr Alison Moore also spoke.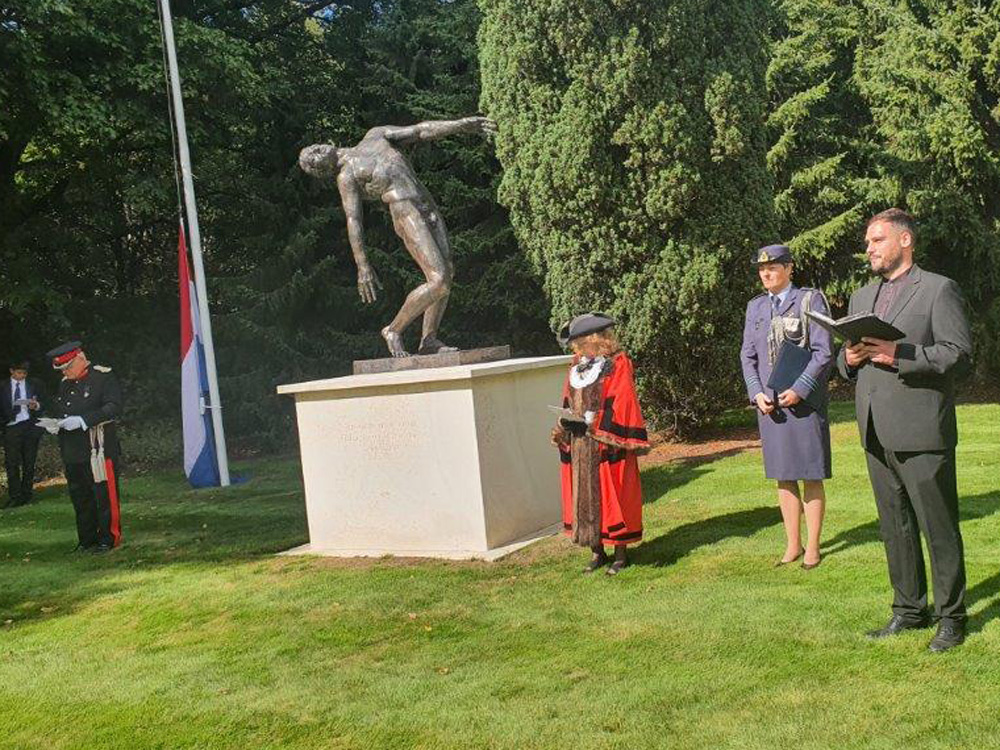 Also present at the ceremony were the Representative Deputy Lieutenant for Barnet Martin Russell and members of Barnet War Memorials Association amongst others.
During the service the children laid orange blooms at the foot of each of the graves after which two pupils gave short readings in a very clear and mature way.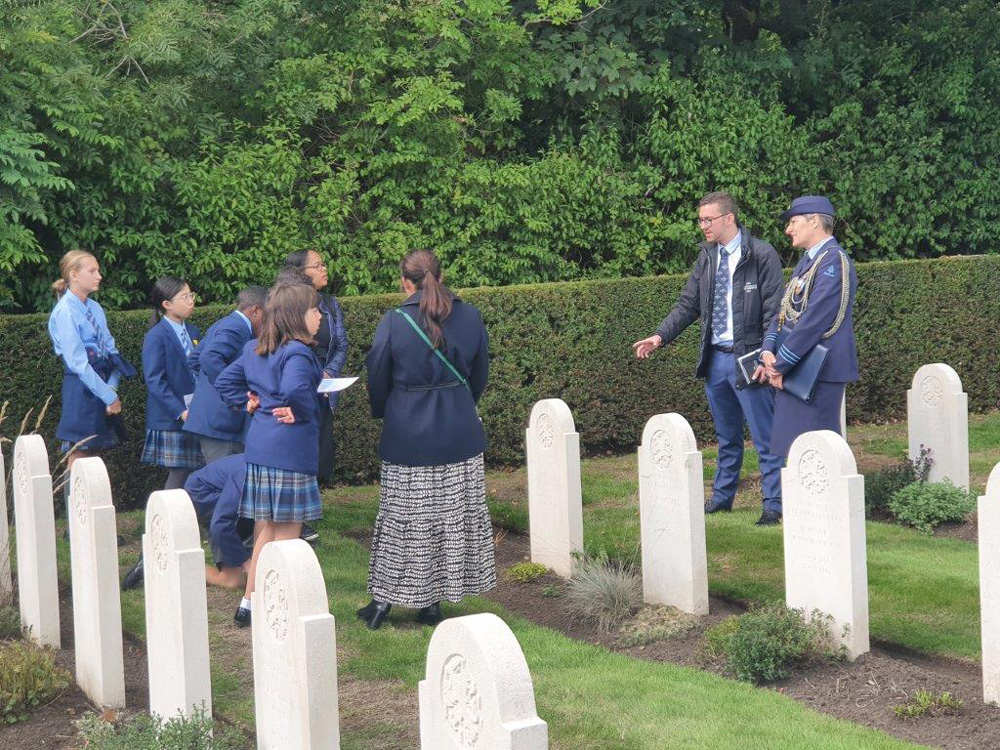 A minute's silence was observed in memory of HM Queen Elizabeth II, and of the war dead buried there.
The service was concluded with the playing of Reveille.
The event was organised by former Councillor Sury Khatri.  It was the second of its kind, and is to be conducted annually on the equivalent Friday each year to match the compliment paid since the War by Dutch schoolchildren at the graves of British war dead in Holland.
All images courtesy of Gerald Alderman and Sury Khatri all are Copyright of the BWMA.
See the full gallery below.