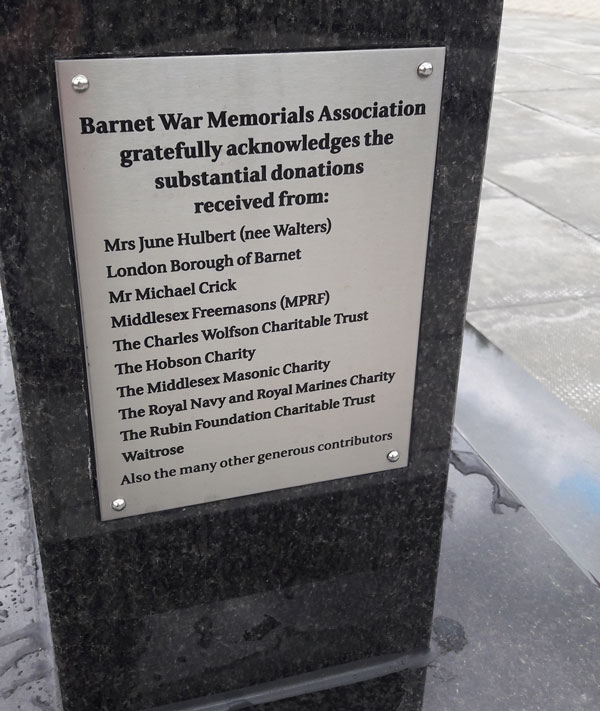 Finchley War Memorial
Until this year Finchley has never had a public war memorial. Therefore, a large number of Finchley residents, who had given their lives in the two World Wars, have had no grave or memorial where their families can pay their respects.

Finchley missed out on a public war memorial, which was erected by virtually every other London district, because it was decided to dedicate a memorial hospital instead.

As a result there are over 775 names from the Great War, and 554 names from the Second World War, which do not appear on a public war memorial anywhere.

This year a stunning new memorial, with all these missing names engraved in gold leaf on dark grey polished granite, has been erected in the grounds of Finchley Memorial Hospital.

The driving force behind the creation of the memorial has been Catherine Loveday, whose father died in action at sea during WW2. Catherine wondered why her father's name, along with other Finchley war dead, did not appear on any local public war memorial, and determined that the situation should be remedied.

Starting researching the missing WW2 names in 2010, initially via the Commonwealth War Graves Commission, Catherine then visited churches, schools, memorial halls, residential homes, and anywhere in the area where memorial boards had been installed. Catherine also spent many hours and days searching parish records, published books of names, and both obituary and birth columns of the local press for the period 1939 – 1946, because in some cases births were recorded with the suffix that the father had been killed before the child was born. It was then a case of establishing the actual residential status of the name involved, as not all were entitled to be recorded on a Finchley public war memorial. The WW1 names were the most difficult for Catherine to find.

Through the offices of Paul Huggins, who is a member of the committee of Barnet War Memorials Association, the Middlesex Freemasons have donated £7,500 towards the £105,000 cost of the memorial. Thus, as a major donor, the name of the Middlesex Masonic Charity has been acknowledged on a plaque on the memorial.

The memorial is due to be dedicated by the Bishop of London in September, when the trustees of the charity will be invited to attend. The memorial has also been added to the list of sites where the Province lays a wreath on Remembrance Sunday.
Paul Huggins